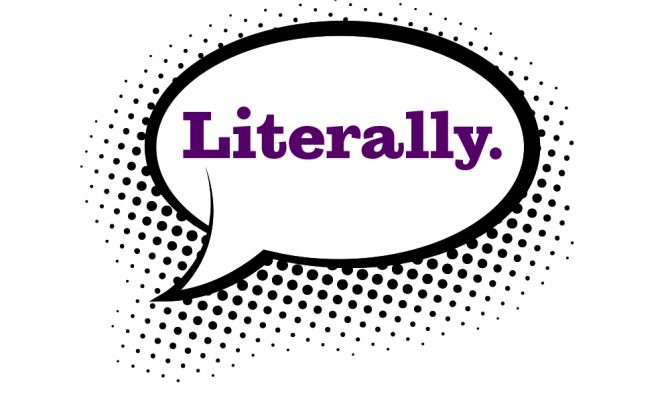 Navigating you through the best of our library collection. Via the recommendations of one very opinionated librarian.
By Rebecca Colbert
Head of Collection and Bibliographic Services at the Las Vegas-Clark County Library District
A Note from the Editor:
Welcome to our newest column, Literally, penned by the wise and witty Keeper of the Library Catalog, Rebecca Colbert. 
As Head of Collection and Bibliographic Services, Rebecca curates all content for the Library District. So we thought it was time to get inside her head. In each issue of Highlights, she will be sharing what you should check out and why.
Your library is a magnificent institution that, on any given day, provides you with more than 2.4 million free items, each specifically selected for your interest, knowledge, education, enlightenment, and/or entertainment.
Rebecca and her army of 18 ace library staff do the research so that you don't have to, digging deep into the best of the best — books, eBooks, movies, music, databases, eResources, and more. If it's still available in print or digital, they can get it for you through any of our 25 branches or our new website at LVCCLD.org.
The first public library dates back to ancient Egypt, where its librarians documented the free thought of civilization. Fast forward and there's now 2,000+ years of history to track, plus the voluminous output of current pop culture, from the movies of Steven Spielberg, to the musicals of Steven Sondheim, and the classic rock of Steven Tyler, to the novels of Stephen King, and the final musings of the late Stephen Hawking on what makes the universe churn. (And that's just the "Steven/Stephen" category.) Rebecca and her team wade through it all, then purchase, organize, and catalog library materials through one centralized department at the Windmill Service Center. 
So you want to know what the person with an all-access pass is reading/watching/listening to? Check out her picks, drop her a line, share your ideas and opinions, and start a conversation at CBS@LVCCLD.org. (Don't be surprised when she writes back!)
********
Wanna get away? I sure do. Between Instagram vacation envy and kids who celebrate the end of the school year with a delirium matched only by their teachers, I crave summer adventure as much as the next mom. Problem is, I haven't booked my ticket to paradise, renewed my passport, or purchased my annual waterpark pass yet. What I have done is made piles and piles of books to read, which might just make my summer magical after all. And something that you should know about me … I'm super picky about how I spend my limited free time. You, too? Life is too short to finish a bad book, movie, or song, especially when there are 2.4 million other options. So I've chosen a few titles here that I think are worth our time. Let me know what you think!
Books Friends Have Urged Me To Read
"My Dear Hamilton; a Novel of Eliza Schuyler Hamilton"by Stephanie Dray. Something to comfort me while I wait to win the Hamilton ticket lottery.
"Before We Were Yours" by Lisa Wingate. A heart wrenching, multi-generational tale of at-risk orphans in the south.
"Perfect Nanny" by Leila Slimani. This harrowing tale was inspired by a real-life crime and is terrifying for working mothers everywhere.
The Lost Girls of Camp Forevermore

"The Lost Girls of Camp Forevermore" by Kim Fu. You won't long for summer camp after reading this tale of five tweens at camp twenty-five years ago.
Books I Should Read
"Prairie Fires: the American Dreams of Laura Ingalls Wilder" by Caroline Fraser. This is Little House on the Prairie deconstructed with hard facts and history. My mom stole it from my pile. I'll be hiding in denial with my homemade bonnet on my head.
"Macbeth" by Jo Nesbo. My favorite Shakespeare play updated to a 70's drug trafficking saga by this infamous Nordic crime writer. It will keep you glued rather than referring to the Cliff Notes.
"The Opposite of Hate" by Sally Kohn. A nuanced call for behaving like better human beings from this former Fox News and CNN talking head.
"Adjustment Day" by Chuck Palahniuk. A less nuanced future imagined by the author of 'Fight Club.' What would happen if one day everyone could get rid of anyone who annoyed them? Would anyone be left? Think of 'The Purge' in print.
Books I've Finally Gotten To Read
"Circe" by Madeline Miller. First person retelling of a "minor" Greek goddess famous for leading Odysseus astray. She is enchanting in this reimagined version of her life.
"Kill the Farm Boy" by Kevin Hearne. LOL OMG. This clever, hilarious unfairy tale turns fantasy tropes upside down with a non-hero named Worstley who cannot fill his dead brother, Bestley's, boots. I have not enjoyed a book about a farm boy this much since The Princess Bride.
"The Merry Spinster" by Mallory Ortberg. These are fairy tales reimagined from a decidedly feminist perspective. Where else does the Little Mermaid end in double murder?
My Year of Rest and Relaxation

"My Year of Rest and Relaxation" by Ottessa Moshfegh.
I lie, I have not read this yet, but I dream about both reading it AND having a year of it.
"#NeverAgain" by David and Lauren Hogg. Who can resist the idealism and determination of the teens who survived the Parkland, Florida high school shooting? #Notme.
Wherever you manage to getaway this summer, I hope it includes a trip to the library and a journey to your own book pile (or eBook file). Bon voyage!
*****
About Rebecca
Las Vegas native; as a child, attended storytimes at West Charleston Library and Clark County Library.
Earned a BA & MA in English from UNLV and her MLS at University of N. Texas.
First job out of high school was shelving books at Rainbow Library and first librarian position was at Sunrise Library.
Spent 20 years teaching English at UNLV, opened the UNLV Law Library.
Joined the Las Vegas-Clark County Library District in 2004, promoted to Head of CBS in 2015.
Married a Library District IT guy, had two lovely red-headed childen, and watched way too much Buffy the Vampire Slayer.
The One Constant? This fabulous Library District.
Goal: Continue improving and diversifying our Library District collection and bringing surprising and enriching new resources to our community.
Who do you love to read? (I can't resist Jodi Picoult or Ian Rankin.)
What should we add to the Library District collection? Feel free to think beyond books. Tell me at CBS@LVCCLD.org.
I'd love to hear from you and look forward to seeing you at our branches and wonderful live performances!