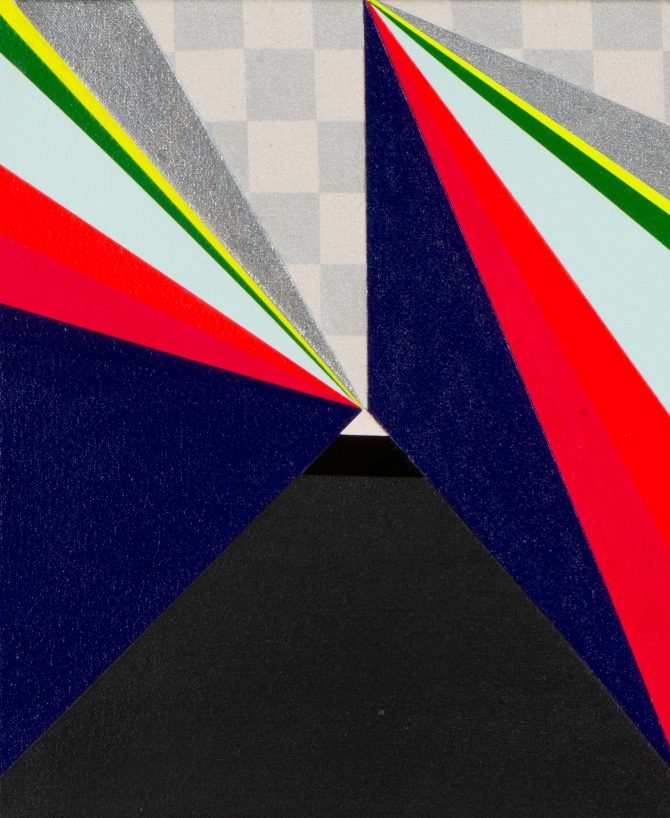 The Studio at Sahara West Library in Las Vegas presents Audrey Barcio's new solo
painting exhibition surveying the recent evolution of the artist's geometric abstract visual
language. Barcio's paintings merge feminist symbology with the esoteric science of sacred geometry.
The title Sight Line references the linear structures apparent in Barcio's compositions while
also hinting at the notions of time, vision, and ancestry that inform the morphology of the work.
Sight lines are pathways between a seer and that which can theoretically be seen. They are
essential to architectonics, an ancient field of study rooted in a quest for control over what will
be visible and what will be hidden. Sight lines are essential to the story of humanity's built
world, and that of artworks that inhabits it—a story written and narrated by the predominantly male
designers and architects of modern civilization.
"I'm interested in having women's structures be seen, because historically they have not been
seen," Barcio says. "My work is about examining and reimagining the architecture of human culture."
Barcio's methods are informed by her ongoing examination of patterns associated with femininity
throughout time. Looking at how elemental abstract symbology has evolved; she posits a primordial
heritage of abstraction coined in the feminine present. The work addresses hidden structures,
challenging our perception of what is visible to reveal what is hidden.
"Nothing stands still in life and in art," Barcio says. "As we move throughout day to night our
vision is filled with three-dimensional beauty, digital flatness, and darkness. Our sight follows
patterns, and our minds look for possibilities for interpretation. Exploring and expanding our
positions, crossing boundaries, and moving throughout space is a purely human experience. We take
in what is in front of us and we move on."
Audrey Barcio is a 2019 Pollock-Krasner Foundation Grant recipient and a 2021 Joan Mitchell
Fellowship nominee. She earned her MFA from the University of Nevada, Las Vegas, and her BAE from
Herron School of Art and Design and has completed residencies at the Pont-Aven School of
Contemporary Art, Vermont Studio Center and Rodgers Foundation. Her work has been featured in New
American Paintings, New Art Examiner, Occhi Magazine, PATTERN, NUVO, and Las Vegas Weekly. Recent
exhibitions include solo shows at Syracuse University, Tube Factory Artspace, Las Vegas Government
Center, Echo Arts Bozeman, and New Harmony Contemporary. Her work is included in the collection of
the Marjorie Barrick Museum of Art and The Rogers Foundation. Barcio splits her time between
Chicago, IL and Muncie, IN, where she is an Assistant Professor at Ball State University.
On exhibit at Sahara West Library from June 9, 2023 through August 26, 2023
Reception on Thursday, June 15 from 5-7 p.m.

Monday: 10:00AM – 8:00PM
Tuesday: 10:00AM – 8:00PM
Wednesday: 10:00AM – 8:00PM
Thursday: 10:00AM – 8:00PM
Friday: 10:00AM – 6:00PM
Saturday: 10:00AM – 6:00PM
Sunday: 10:00AM – 6:00PM