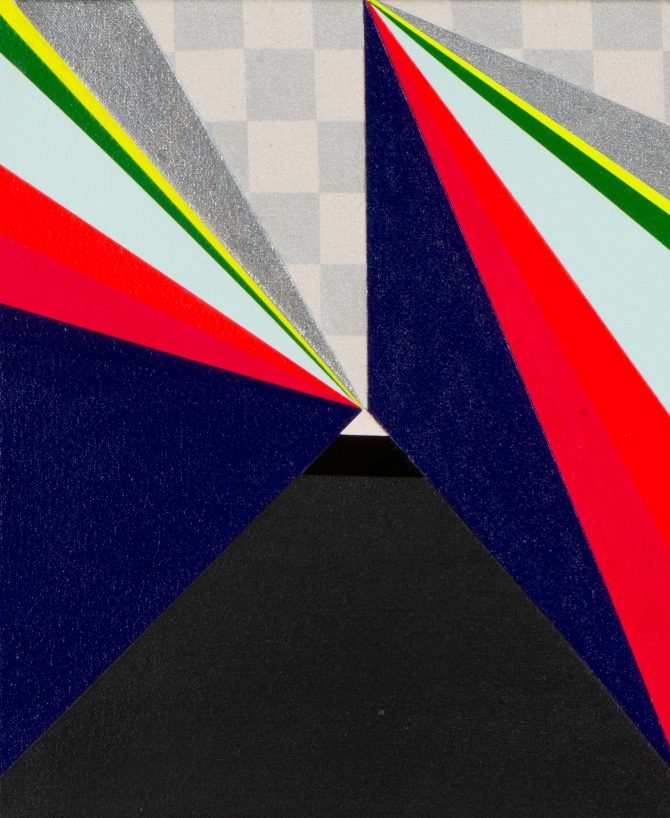 The Studio at Sahara West Library in Las Vegas presents Audrey Barcio: Sight Line, a solo painting exhibition surveying the recent evolution of the artist's geometric, abstract visual lexicon.
Barcio's paintings merge feminist symbology with the esoteric science of sacred geometry. The title SightLine references the linear structures apparent in the artist's compositions while also hinting at the notions of time, vision, and ancestry that inform the morphology of the work.
Audrey Barcio is a 2019 Pollock-Krasner Foundation Grant recipient and a 2021 Joan Mitchell Fellowship nominee. She earned her MFA from the University of Nevada, Las Vegas, and her BAE from Herron School of Art and Design and has completed residencies at the Pont-Aven School of Contemporary Art, Vermont Studio Center and Rodgers Foundation. Her work has been featured in New American Paintings, New Art Examiner, Occhi Magazine, PATTERN, NUVO, and Las Vegas Weekly. Recent exhibitions include solo shows at Syracuse University, Tube Factory Artspace, Las Vegas Government Center, Echo Arts Bozeman, and New Harmony Contemporary. Her work is included in the collection of the Marjorie Barrick Museum of Art and The Rogers Foundation.  Barcio splits her time between Chicago, IL and Muncie, IN, where she is an Assistant Professor at Ball State University.
On exhibit at Sahara West Library from June 9, 2023 through August 26, 2023
Reception on Thursday, June 15 from 5-7 p.m.

Monday: 10:00AM – 8:00PM
Tuesday: 10:00AM – 8:00PM
Wednesday: 10:00AM – 8:00PM
Thursday: 10:00AM – 8:00PM
Friday: 10:00AM – 6:00PM
Saturday: 10:00AM – 6:00PM
Sunday: 10:00AM – 6:00PM