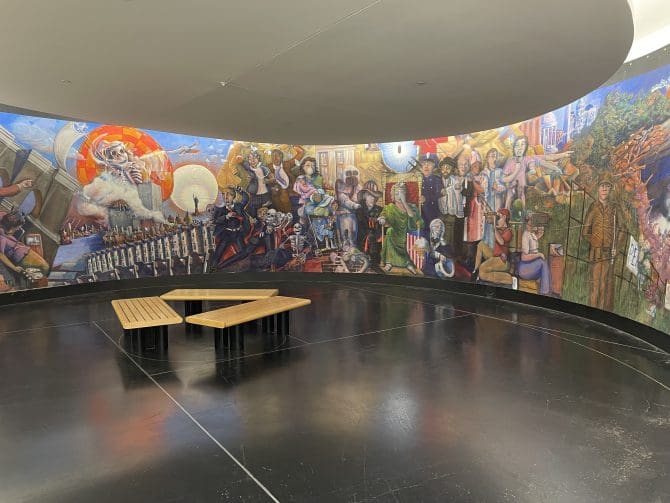 The Mural
This 60-foot mural, titled 9/11 The Day, was commissioned as the centerpiece of a Las Vegas Art Museum exhibit in 2004. To honor the victims of the World Trade Center tragedy, Etchison painted this depiction of the September 11, 2001 terrorist attacks on New York City and exhibited it in the Sahara West Library Grotto. The mural dramatically brings viewers back to the emotions of the day.
After the exhibition closed, the artist took possession of the mural. Following Etchison's sudden death, his life's work went to auction in Las Vegas. Former president of the LVAM's board of directors Gerald Facciani and his wife, Karen, purchased the mural, exhibited it at Yale University in 2011, and generously donated it to the Las Vegas-Clark County Library District in 2021. It is now being displayed in the same room 20 years after the 2001 attack. 
The Artist
Gregory Etchison was born in Baltimore, MD in 1945. He was a graduate of the Maryland Institute College of Art in Baltimore. Etchison moved to New York after college to pursue interests in both art and theater. He lived in Brooklyn and designed scenery and costumes for off-Broadway shows for 26 years. He also pursued his art career in New York, and had his first solo exhibition in 1982. Etchison owned two small businesses in Brooklyn: Brownstone Gallery & Studio and Artist's Bazaar, an art supply store. Looking for a new start, he moved to Las Vegas in 1996. Locally, Etchison stayed active as an artist, actor, and teacher. He passed away in 2008.
On canvas, Etchison painted both what he imagined and what he observed. His style was American Expressionism, and he sought to elicit emotion through his artistic endeavors. He was deeply concerned with poverty and the difficult lives of working people. He used unconventional color systems and deliberate distortions of form as a way to express personal and social concerns. His artwork was the result of spontaneous gestures and on-the-spot creation. Etchison's mission was to tell a story through both visual art and theater.
On exhibit at Sahara West Library Grotto from August 17, 2021 through November 28, 2021

Monday: 10:00AM – 8:00PM
Tuesday: 10:00AM – 8:00PM
Wednesday: 10:00AM – 8:00PM
Thursday: 10:00AM – 8:00PM
Friday: 10:00AM – 6:00PM
Saturday: 10:00AM – 6:00PM
Sunday: 10:00AM – 6:00PM