The Library District is Fully Open
Come In, We're Open. We know that you come to our libraries to learn, to grow, to find community, and to pursue your dreams, and we are here for you! The Library District is fully open and our in-branch services and activities are available for your enjoyment. So come in and join us for our many programs and services, including, browsing, storytimes, computers, and WiFi, Employ NV Career Hub services for job-seeking, art gallery exhibitions, and Safe Place services for youth in crisis. Our Adult Learning Center offers literacy and education courses, which include Career Online High School, the WorkKeys work readiness certificate, the HiSet high school equivalency exam, as well as adult classes in English as a Second Language and English Conversation.
Safety. For everyone's health and safety, additional hand sanitizing stations have been installed and enhanced cleanings continue in our 25 Library District branches.
*Curbside To Go. This streamlined service makes it so easy to pick up your holds and drop off your returns. Simply place your holds online (or by phone) and call your branch, where our staff will help you make an appointment. Then drive, bike, or walk up to the designated curbside area, and you'll get to take home a bit of normalcy. Click here for all of the details. We look forward to helping you make your next great discovery!
So Many Ways To Connect. We love to help you discover the wonders of the library, either in-person at our branches, at our convenient Curbside To Go service, or digitally 24/7 on LVCCLD.org. On the website, you can stream and download hundreds of free materials, learn a new hobby on CreativeBug, master a new language with Rosetta Stone, or sharpen your skills with LinkedIn Learning.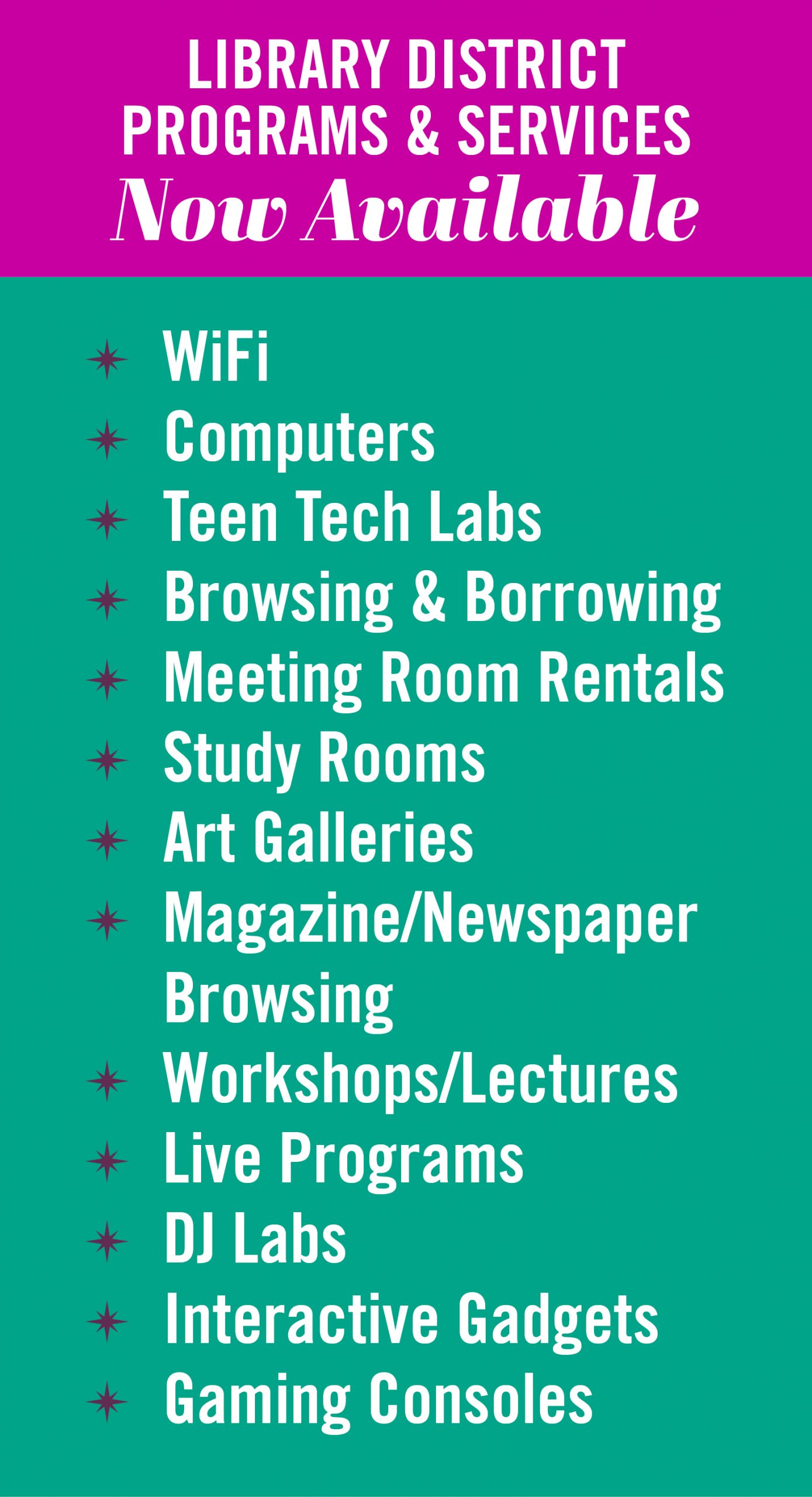 And be sure to check out our entertaining and educational library programs at YouTube.com/TheLibraryDistrict. Let's start a conversation by following us on Facebook, commenting on Twitter and Instagram, leaving a review or comment on our website, or sending us your questions at Ask@LVCCLD.org. We look forward to hearing from you!
Find Something You Love. There are so many possibilities, and it's all free at the library! Join us and continue to learn, connect, create, and grow.
Be well friends!
We're here for you!
Enjoy the library 24/7 online. Here's how:
Visit virtual storytimes and fun online events at YouTube.com/TheLibraryDistrict, our new YouTube channel.
So glad you're enjoying TheLibraryDistrict.org! Your FREE library card gives you instant access to our vast digital collection and online learning resources.
If you don't currently have a library card, you can #GetCarded here.
View a comprehensive list of free community resources & services.
And for a quick sample of our website's endless possibilities, please click on the items, below: