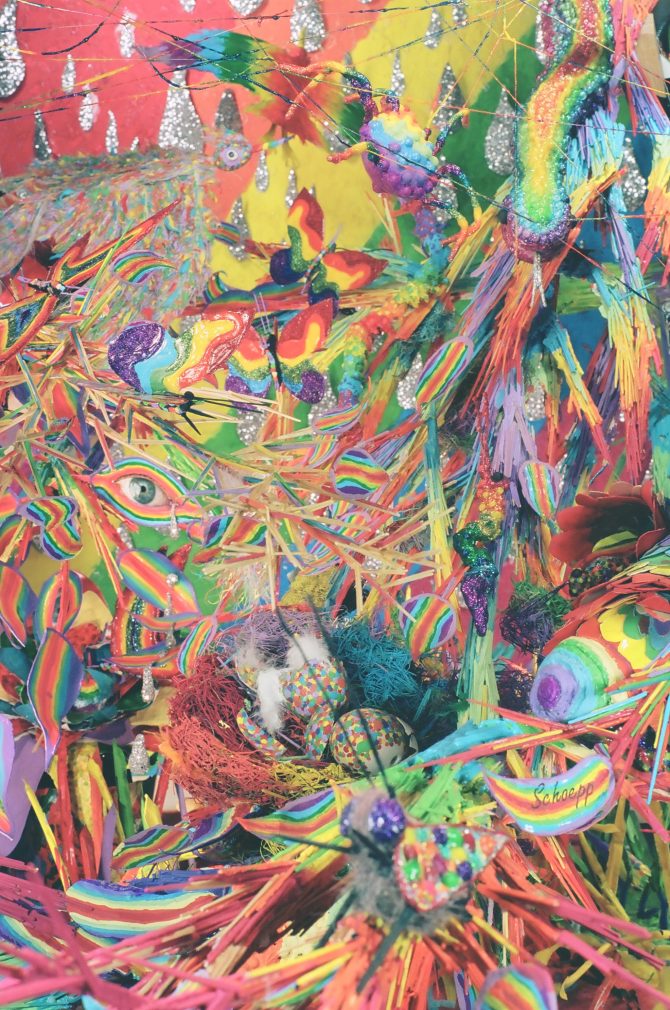 Schoepp's brimming mosaic photographs are a result of his technique layering multi-dimensional details specifically for capture through a camera lens. The intricate scenes revealed on high resolution film are designed to intrigue and create wonder for the viewer.
ARTIST STATEMENT
The artist bug bit me later in life. It was only after three decades of shooting the news for television and retiring that I finally opened the other eye and saw the colors. Some of them were found on the butterfly watching me with that abstract eye painted on its wing. Whoever and whatever else I might have discovered peering out from a seashell, fallen leaf or flower petal was, of course, imagined. Even so, these Eyescapes, art-forms that look back at their beholder, are all quite real, and I hope you enjoy what you see. –Hank Schoepp
ARTIST BIO
Hank Schoepp was a US Naval photographer from 1953 to 1957, a Disney animation cameraman from 1958 to 1960, and a news cameraman at KPIX, the CBS affiliate in San Francisco, from 1968 to 1997. Documented through his lens and witnessed firsthand were events that commanded regional, national, and even worldwide attention. Among these: getting tear-gassed during student protests and rioting at UC Berkeley; covering Patricia Hearst's kidnapping from start to finish; searching for a vanishing school bus, its driver and 26 children in Chowchilla, California; arriving in Guyana in the wake of a mass suicide of over 900 people in Jonestown; rushing to the murder scene of a San Francisco mayor and supervisor; accounting for devastation caused by the Bay Area's Loma Prieta Earthquake; and narrowly escaping flames of the Oakland Hills Firestorm. Schoepp is also the author of his memoir Shoot First: Code of the News Cameraman.
On exhibit at East Las Vegas Library from July 1 through September 12, 2021
Monday: 10:00AM – 8:00PM
Tuesday: 10:00AM – 8:00PM
Wednesday: 10:00AM – 8:00PM
Thursday: 10:00AM – 8:00PM
Friday: 10:00AM – 6:00PM
Saturday: 10:00AM – 6:00PM
Sunday: 10:00AM – 6:00PM