This special day is all about sharing our sincere appreciation of YOU, our valued customers. Stop by your favorite library branch during open hours on Wednesday, April 26, to participate in fun activities, enter for a chance to win an iPad, and celebrate with us!  Each of our 25 unique branches will have giveaways throughout the day.  Visit our website to find the Library District branches that are closest to you.  (En Español)
The Library District values your feedback on topics such as operating hours, programming, services, and items that you would like to see added to our library collection. We will use this information to better serve the evolving needs of our diverse communities across Clark County. Thank you for helping to guide us in our planning process!
Customer Recognition
---
Thank you to all of our wonderful customers! We appreciate your participation in our programs and the friendship that you share with us in each of our branches. Using the seven words from our new public education campaign, we asked you to share what you love most about the Library District. Each word illustrates the fun, fascinating, educational, and community-building experiences that you, your friends, and family can enjoy in our 25 branches.
Here are some examples of what you shared!
---

Elena
East Las Vegas Library
"It is a blessing to our community to have so many free resources. I love the library because I can learn something new every day."
"Es una bendición para nuestra comunidad tener tantos recursos gratis disponibles. Me gusta la biblioteca porque puedo aprender algo nuevo todos los días"

---
---
Colleen
Goodsprings Library
"The library, especially the librarian, has opened worlds within worlds, adventure upon adventure, twisting and turning paths, that without this small-town library, I would have never seen."

---
---
Carolann
Indian Springs Library
"The thing that I love the most about our library is the amazing staff. The wonderful ladies behind the counter, from the day we met them, have always made my family feel part of theirs. They have always been so wonderful and welcoming, and are always coming up with great community events. The library has such a great atmosphere. I usually find a reason just to stop to say hi and see who else I may run into. For a small town like ours, the library functions as a community hub -- the ladies do such a great job of making everyone feel welcome. It is because of them that I joined the bi-weekly book club and am grateful for all the amazing friends I have made. Our library is so much more than just a place for books, it is a place for community and connection, and where you feel like you belong and are always greeted by name."


---
---
Justine
Indian Springs Library
"I've been to many libraries, but I've never felt as welcome or informed as when I joined this community. These women make it easy. They are warm and genuine. They make a difference in the life of every person who walks into this library. Just witnessing them in action inspires me to be a better person."


---
---
Diana
Mesquite Library
"The two words I would choose are fearless & inspired. The 10th anniversary of my heart attack and triple bypass surgery is coming up in June. I can't believe how fast the past decade has gone. Fearless is a good word for me because that is how I live my life."


---
---
Pamela
Moapa Town Library
Pam said she likes what the new motto says, that the library is a place where she can be "free to be" and "free to me."

---
---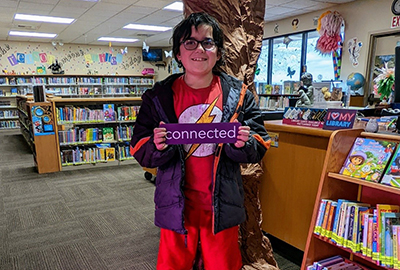 Joey
Moapa Valley Library
"I like my library because it gives me an option to go somewhere other than just walking around or going to the stores."

---
---
Isabell
Rainbow Library
"I love the library because I get my homework done, I get to do crafts, and when I need help, I get help. I've been going to this library for almost my whole life. Yours truly, Isabell - age 10."

---
---
Marsha
Summerlin Library
"Thank you for thinking of me. I have been a member of the Summerlin Library since 1997. The library is my home away from home. The staff (Paul, Toni, Maddy, Carla, Sabrina, Monica, Romeo, Austin & Rhoda) are so friendly and helpful and such good listeners, as I am a talker. They take the time to listen to me. But I do apologize to the people behind me when I am holding up the line! Keep up the good work and thank you again."

---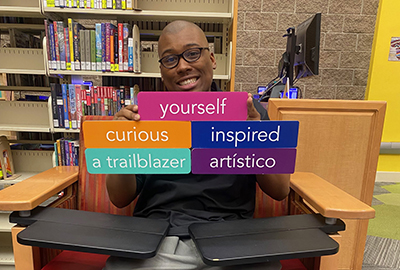 Mr. Rodamy
Sunrise Library
"The Sunrise Library means a lot to me. It's a place where I can learn, study, craft, and of course, read along with my local community."

---
Tammy
Sunrise Library
"My library is a wonderful place to go on new adventures through reading. Also, reading and the many different programs they have inspired me to learn more and do more for others. It's a safe place for children to learn and play and make new friends! My library is so special. There's something for everyone: young and old! And the people who work here are the most caring, genuine people I know, always here for you, helping you achieve the goals you are reaching for. Thank you all for being you!"
Pictured with Branch Manager Scott


---
Elijah
West Las Vegas Library
"The library is like a 2nd home. It is calm and peaceful. It is a good place to hang out."
Pictured with Branch Manager Lenika
---
Mr. Larry
West Las Vegas Library
Mr. Larry was surprised and humbled when Lorraine informed him of our appreciation. He stated when asked, what do you love about the library, "The library is very peaceful. It is well respected. It is organized."
Pictured with Circulation Department Head Lorraine and Computer Lab Department Head Lisa


---
Art & Jeanette
Whitney Library
"We appreciate the helpfulness of the employees, the access to different materials, and the programs put on by the library."

---
Janelle & Corey
Whitney Library
"We love the library because the personalities of the staff, the library has events for everyone, and the friendliness of everyone in the library."

---
Steve
Mesquite Library
"My heart, soul, and mind are inspired beyond measure by our awesome Mesquite Library. It is not just a building that houses books but a community hub where neighbors gather inclusively to nurture their curiosity, create, learn, share, eat, and flourish."